Click on These Links to See Pictures of PEI:
*Lupines
*Sunsets
*Cavendish Beach
*Road to Avonlea
*Emily of New Moon
*Green Gables
*L M Montgomery Sites
*Northern Lighthouses
*Southern Lighthouses
*Seascapes
*Miscellaneous Pictures


July 11, 2000
On June 24th, 1998, I boarded a plane to Prince Edward Island; my second journey to LMM's fairy tale- like world. Little did I know how welcoming the island would be. Just as Maud had said, that two weeks was like "coming home"!
I will always think of my first journey to PEI as a "Literary Pilgrimage," while I think of this one as a pilgrimage of friendship; because I got to spend it with two very special people: Seema and Amber. They certainly made the trip interesting! Anne once said "Having adventures come naturally to some people...You just have a gift for them or you haven't." (Anne of Avonlea, An Adventure on Tory Road) Well, I think the Kindred Twins have that gift! I know I never would have experienced some of our crazy adventures without those two young ladies urging me on.

Now, having just returned from my thrid trip to the Island, I realize more strongly how magical a place PEI is, as well as how sublime friendship is. Despite the fact that Amber wasn't with us, Seema and I still managed to find adventure, as you will see in the coming weeks when I put up some brand new photos.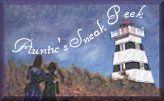 Updated 1/12/02